The Elgin Food bank is located in the lower level of Bethel. Bethel has hosted the food bank since 2005 when the foodbank suddenly found itself in need of a new home.
The Food bank is supported by the three churches in Elgin. (St. Columbanus, Elgin United, and Bethel)
The Pastors wife Susan took on the role of co-ordinator in spring of 2010. She has a wonderful support system in place with a board and volunteers made up from all three churches and Elgin Lions Club.
As a community that sees many seasonal workers the winter and spring shows a great need for this ministry.
Elgin Food Bank runs twice a month, on the 2nd and 4th Thursday of the month.
Please visit the Food Bank's website created by one of the very talented communiy members for more details and contact information.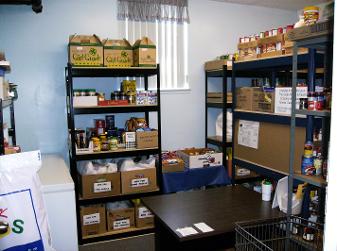 Bethel is the distribution center and host sight for our regions Good Food Box. The food is procesed at Bethel by Community Volunteers and then taken to their pickup sights arround the region.
The Good Food Box offers fresh fruits and vegetables at wholesale prices for all community members. Participants pay when they place their orders with their local host sites by the seventh of each month, to pick up on the third Tuesday of the month. Prices vary between $5 and $15 depending on size of box requested.
The program is volunteer-driven and volunteer run.
Contact Person: Emily Beelen. 613 272 2799 or 1 888 998 9927 ext 256
To find your closest Good Food Box Host Sites and Contacts .