Mark 16:15 And then He told them, "Go into all the world and preach the Good News to everyone.
As a church here at Bethel we truly believe in the mandate given to us by Christ that we are to bring the message of Jesus our risen Savior to all people both where we live and around the world
Bethel faithfully supports a few different Missionaries, ministries and support two sponsor children around this amazing world Christ created for us.
We are sponsoring Two Missionaries In two closed countries however due to safety reasons we are unable to Publish his/her/their names or pictures. However since they work very closely with Leprosy and does a great deal of traveling from one colony to another they truly need your prayers. That the Lord will speak through them, that they will continue to see many more people come to Jesus as their Lord and savior. Also this is a heavily populated Muslim area and see many convert to Christianity, their safety and protection from both extremists, and the Leprosy is very important.
Wattana In-Maal from Thailand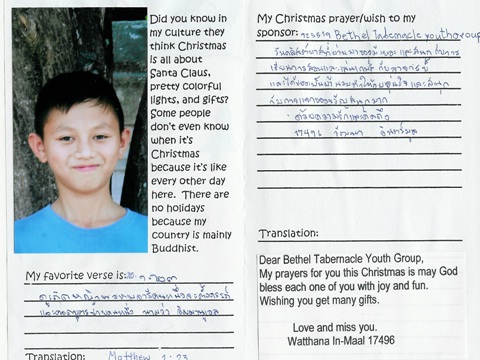 The youth group has sponsored Gloria since August 2005. Gloria lives outside of Gulu in Northern Uganda. She was born December 20, 1997. She lives with her mother, brothers and a sister. Warriors killed her father and her mother moved them to Gulu for protection. She does have an Uncle who lives near by. Even though they say the fighting is over, Uganda is still war torn and families are still displaced. Her mother struggles to provide for them. Through sponsorship Gloria was given the gospel, able to attend school and receive medical help. She is completing her P8. The youth have tried writing to Gloria but poor communications in Uganda hamper her response to our letters but we enjoy the letters we are able to receive from her. Amazingly enough we still continue to have her as our same sponsor child after all these years.
A couple years ago Bethel raised enough money to place one well in Liberia and helped finish a well in Nigeria that was needing extra funding.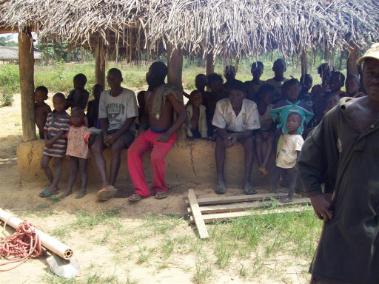 Previous Missionaries we have sponsored for a number of years, who have since returned to Canada to minister are:
Rob and Carol-Lee Heyman / Thailand
Michael & Sheila Middlebrook / Kenya
Please keep these two families in your prayers as they transition back into the Canadian Culture.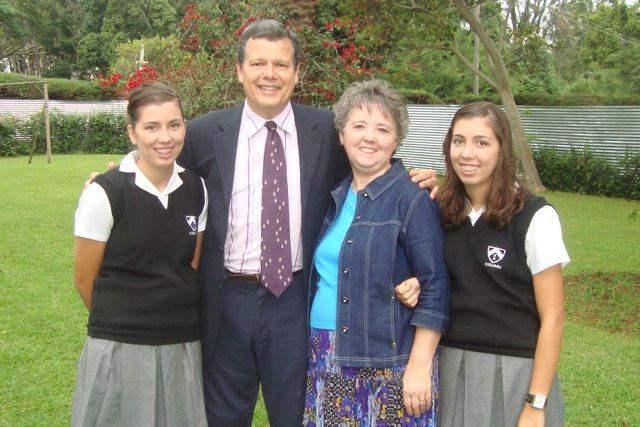 Michael & Sheila Middlebrook / Kenya
The youth group has sponsored Wattana since March of 2005. Wattana lives in Lamphun in Northern Thailand. His birthday is March 12, 1995 and is now attending a vocational school where he is majoring in electronics. He lives with parents, grandparents and younger sister. His father is a labour and his mother does house work to help support the family. His uncle gives him a part time job in the summer, which helps to support his parents and in the fall returns to school. He enjoys reading and music and attends church where he enjoys Bible study. The major religion in Thailand is Buddhism. We have regular correspondence with Wattana through the mail. Through sponsorship he was given the gospel, able to attend school and receive medical help. In Spring of 2016 Wattana finished his time with the program, and we were able to take on another child from his community.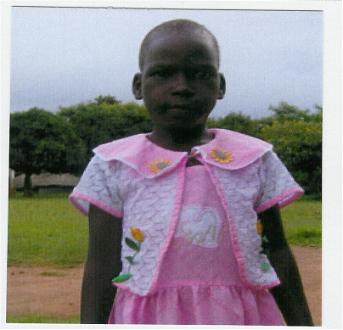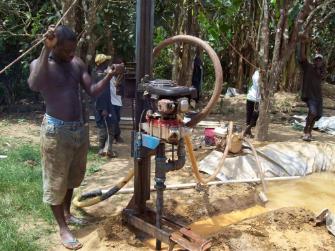 Rob and Carol-Lee Heyman / Thailand